Meet the artists at Bantu Records: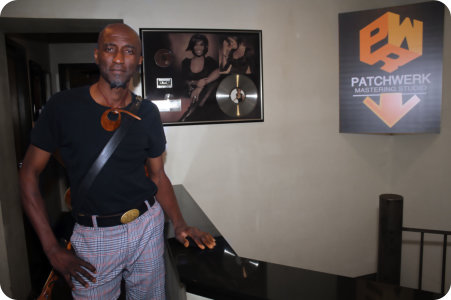 Moken
Contemporary African rhythm artist and balladeer Moken makes mystical music that celebrates the diverse, vibrant melodies, harmonies and heartbeats of world music. His personal, poetic lyrics demonstrate his deep talent as a storyteller and help him connect to audiences through his experiences. Moken's intricate recordings and captivating live performances magnify the extensive range of his acrobatic voice that soars amidst inventive, playful arrangements plentiful with acoustic guitar, drums, xylophone, and rare percussion and stringed instruments from around the globe. His work features a spectrum of time-traveling sounds that reflect his passion for a wide range of musical styles and instruments and reinforces the power of a song to transform the spirit.
Moken's delight in music took root when he felt a magical connection as his father sang call-and-response tales of his village, encouraging him to contribute his own renditions of the choruses. At the same time, his mother's fascination with different religions filled his childhood home with hymns, and he learned village dances from around his home township in Cameroon and to connect spiritually to the notes through movement. As his worldview expanded, he soaked up all forms of eastern, western and even popular American music, falling in love with intense, penetrating songs featuring powerful climaxes across rock, Afro-pop, blues and many other genres, performed by expressive singers such as Nat King Cole, Julio Iglesias, Manu Dibango, Van Morisson and James Brown. Moken continued to sing and invent his own melodies and as a teenager, crafted his first guitar from carved wood and light plywood with nylon fishing strings as well as wooden African xylophones and different homemade percussion instruments in order to conjure music through both his voice and his fingertips.
He now plays acoustic guitar, piano, Ngoni, Kora, flute and Kalimba as well as the alto saxophone and accordion, all of which help him make limitless music that incorporates a variety of global textures. Moken's love of traditional African dance music and rap music has also inspired him to adopt a form of harmonic talk singing, which he blends with spoken word poetry and unexpected rhythms in order to inhabit different characters within his songs. His heartfelt, earthy compositions have always come to him through the strike of a single note or chord, triggered by a spontaneous feeling.
A natural collaborator, Moken has performed and recorded with many renowned artists and musicians, from his home province in Africa, to France and the United States. He has worked with acclaimed producers and artists including Manuel Nguesso and Marcus Belgrave and has even toured and recorded with rock bands. Moken's original creations have been heard on radio stations, in clubs and on stages worldwide.
Now signed to Bantu Records, Moken's upcoming album Chapters of My Life is a collection of hand-crafted songs that bring his many travels to life and play with the multitude of melodic, harmonic and rhythmic textures that have influenced his artistry. Recorded in both Paris and Atlanta, this spiritual album also includes the talents of world music superstars Jean Lamoot (Ali Farka Toure, Salif Keita, Vanessa Paradis), Blick Bassy, Pascale Danae, Baptiste Brondy and Roselyne Belinga. When describing the album, Moken explained, "Chapters of My Life is not just answers to my own prayers, but also a vehicle – a medicine to ease the individual journeys of those to whom I sing."
To support his release, Moken will be playing a series live performances in key cities throughout the world. Chapters of My Life will be available in Spring 2016.